Description
The Dara Custom Action Sports Holsters is the top choice for a quick draw outside the waistband holster. With two different Ejection Port cut outs*, this holster is designed for the quickest draw possible while maintaining IDPA legality. Made with thick .093" Boltaron/Kydex and fastened using Melonite coated Stainless Steel hardware, our product is not only impervious to rust, it's built to last a lifetime.
Have a light or laser attachment? Check out our Light bearing Action Sport Holster.
The Action Sport Holster is an Outside the Waistband Holster designed for the quickest draw possible, allowing for the fastest target acquisition. This holster is ideal for range time, IDPA, or other competitive shooting matches. Be sure to check out our OWB Mag Carriers as well.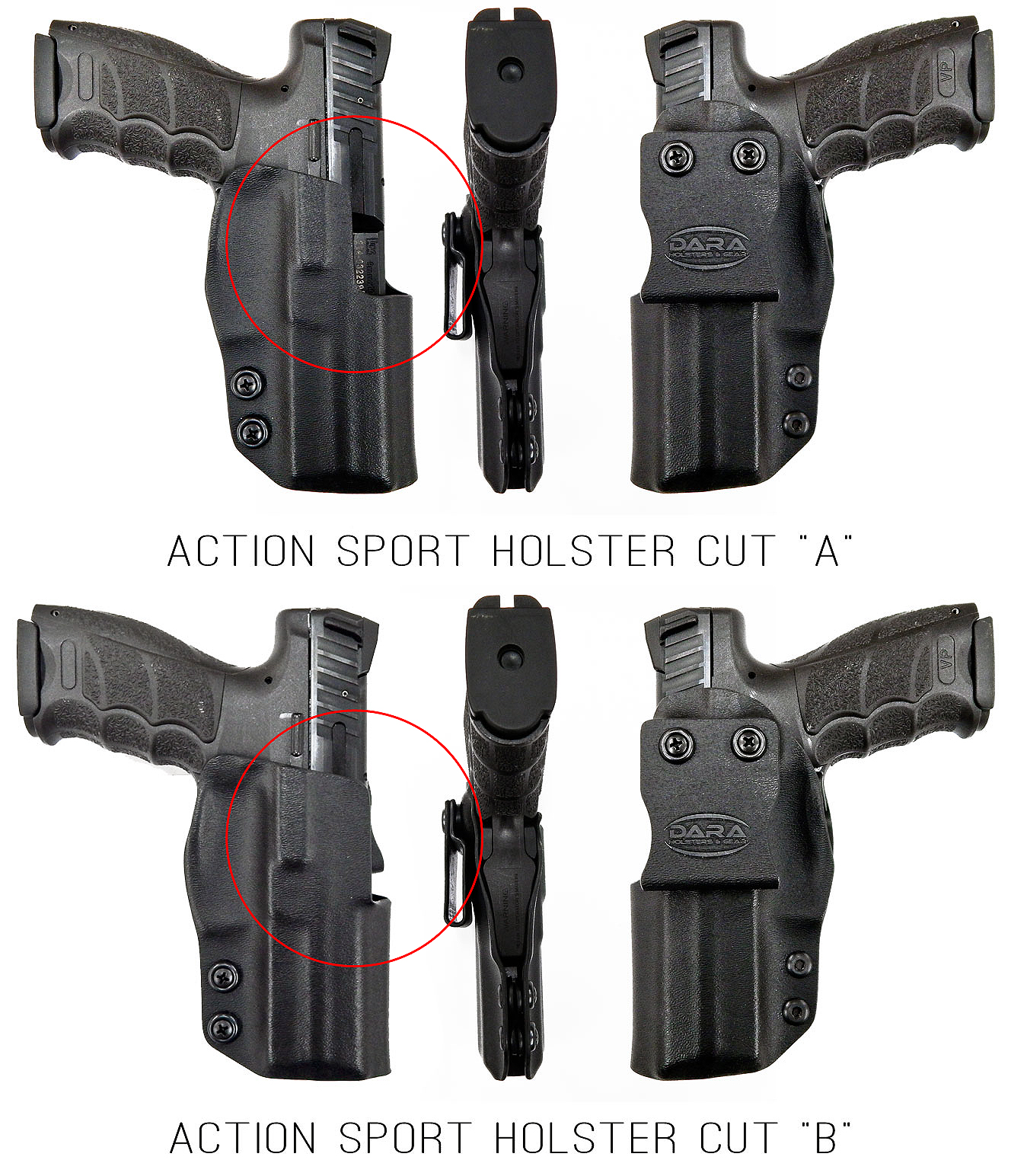 Please choose your exact make and model. Failure to mention any details that influence the external dimensions of your firearm will result in fitment issue.
How to Order:
Firearm:
Start by choosing your firearm model. We have two drop down menus that list each Manufacturer and Model in alphabetical order. If you don't see your firearm, we may not have that model available just yet. You can contact Customer Support to see if your model is available.

Holster Color:
The next step is choosing your Holster Color. We do provide swatches on the order form, but larger pictures can be found on our FAQ page here.
Draw Hand:
Choose how you'd like to carry the holster. If you plan to carry using a method not listed on the drop down menu, please see if your specific carry method is listed under the 'SHOP HOLSTERS' section on the main menu at the top of the page.
Belt Attachment:
Choose your desired belt attachment from the drop down menu, along with the corresponding belt size. 1.5" is the most common belt size. 1.75" is most common for tactical belts, and 2"-2.25" is common for duty belts.
Ride Height:
This is how your holster and firearm will sit in relation to the belt, vertically. A low ride height put the grip of the gun lower in the belt line. Be careful with a low ride height, as the grip of the firearm can become buried easily with a reverse cant angle. A mid ride height, which is the most common, will put the top of the belt in line with where the trigger guard meets the frame. The high ride height will put the holster higher up on the belt, giving you a full grip. To see the ride height and cant angle chart, scroll through the product pictures.
Cant Angles:
We offer many different cant angles conducive to every carry method. If you plan to carry at the hip, you'll want to choose a straight draw (0° cant) or forward cant angle. The forward cant angle tilts the grip up and forward and the muzzle backwards. If you want to carry crossdraw, you'll need to choose a reverse cant angle, which tilts the grip down and back, the muzzle forward.
Custom Notes / Photo Upload:
This is where you'll want to bring any customizations up. We need to know about switched magazine release buttons, extended mag release buttons, suppressor height sights and other such modifications.
Save
Save
Save
Save
Save
Save
Save
Save
Save
Save
Save
Warranty Information
LIFE TIME, NO B.S.
Additional Details
Condition:

New

Military or LE? Let us know before you order!:

Thanks!
76 Reviews
Product performs as advertised

Holster has a tight fit with my gun and snaps in to lock (even when you hold it upsidown). Workmanship is high quality and there are no rough edges, scuffs, or abrasive marks making contact with my person or my gun. If I need another holster, this is the place I would get one!

Not my first Dara holster and definitely not my last. This purchase was for my son's Christmas. I was late placing my order but I received everything in plenty of time! Fit was perfect and I really like the carbon fiber look! Added a Tacbelt and matching mag holder to get him started on his CCW training. Beautifully made to last! Thank you Dara!

When I bought my Walther Q5 I didn't realize finding a holster would be an issue. I've always bought brown leather holsters for my guns but that wasn't going to happen. I then saw a pic of this holster in Natural Leather Kydex and said that will work. I now have a holster that looks and fits great and if I get back into action shooting I'll be all set!

Great fit, looks good and fast turnaround. Got it on a Thursday and used it for a match on Sunday

Custom Action Sport OWB Holster

I am truly impressed with my new Dara holster!
I got it and 3 mag carriers for my new Walther Q5 Match 9MM.
Let me start with the ordering process...the online order form is easy to use and understand with all of the options clearly shown and easy to understand. I new that I had the right holster for my gun with all the features that I wanted before I placed the order.
To my surprise, I received email notifications for each step my holster went through in the order and shipping process. My holster and mag carriers arrived 7 days from placing the order! The shipping materials and box from Dara were of great quality and showed a real attention to detail. Speaking of attention to detail...my holster and mag carriers fit my Walther Q5 Match and it's magazines like it was made for it! Hey, maybe that's why it's called "Custom Action Sport Holster"!?!?! Everything about the holster is exactly what I ordered, it fits great and carries the gun right where I want it. Drawing and re-holstering are instinctual and a breeze!
In today's world of short cuts and cheap materials to save costs, it's nice to see a company that throws all that out the window to really strives for excellence and hit it on every mark!
Thank You Dara! You will be my "go to" for all future holster needs!
Michael Rojina

Excellent quality, would buy again.

It's for my FN509 tactical, coyote brown! U guys nailed it! It's perfect! I can give 10 stars if I could! Retention is awesome! Materials is superb quality, it's exactly what I asked for!

Custom Action Sport OWB Holster

Was looking for a holster for my newly purchased H&K VP9 SK pistol and came across the Dara website. I was impressed by the number of options you could choose from in personalizing the look and fit of the holster. It took a little longer to receive than I thought it would, but it was worth the wait. The holster fits my pistol like a glove. I am very impressed with the workmanship and the lifetime no BS guarantee. I also like that it is made in the USA with USA materials, as I hate buying cheap Chinese junk.

polymer 80v2 fullsize Glock 17

I am very impressed with the overall build quality. my only gripes are the lead time (3.5 weeks). and out of the box the retention wasn't the best. it was easily fixed by following the instructions. the fit is great and retention is fantastic. i opted for the carbon fiber finish and it is incredibly sleek. I will buy another holster from dara when i need another.

I own the Action Sport Holster for my Walther Q5 and it has been a dream, so when I got my Glock G19 Gen5 I immediately went to Dara Holsters to purchase my new holster. I was not disappointed as the fit was true and it is also a dream. Thanks!